Learn to Surf in Texas at Padre Island Surf Camp in Corpus Christi, Texas.
Surf Camps, Lessons & Groups Events For All Ages Year Round!
PISC was established to share the unexplainable experience of surfing to all. Our camps are designed for all who wish to surf and enjoy what the beach life has to offer. Our surf camp helps build confidence and self esteem in kids who wants to take in all the beach fun with new friends in a supervised, safe, and fun atmosphere.
We split our surfers into groups based on age and skill level and have a 4:1 student:instructor ratio. PISC is for surfers of all levels, and we teach in a safe environment among peers and professionals. Equipment is included in every lesson or camp that we offer. We have a variety of surfboards to use for all skill levels including standard short boards, Retro and Modern fish shapes, longboards, and Stand up Paddle boards! We also offer Kayaks, Skim Boards, and beach games for additional fun in the sun. Whether you or your child is a beginner, or looking to improve, Padre Island Surf Camp help you get to the next level!
Padre Island Surf Camp offers private lessons, full day camps, 5 day camps, and all Women's camps. We pride ourselves on our incredible, knowledgeable staff, and our focus on safety, and operate on a 4:1 surfer/instructor ratio to ensure the best overall experience. All of our campers are put in the same color rashguard for easy identification and sun protection. We feel that personal attention is what makes this learning experience enjoyable.
All campers will go through the Padre Island Surf Camp's "Core Class":
Proper stretching and warm up exercises
Dry land instruction
Safety and ocean awareness, training and safety education programs to people of all ages, gender, and skill level (what to look for and how to avoid problems)
Dangers to look for in the ocean
What to do if caught in a dangerous situation (such as a rip current)
The Bill of Rights and Lefts (Surfline's 10 golden rules of surfing)
Understanding your equipment
Importance of sunscreen and rash guards to avoid sun exposure
Provide ecological educational to help conserve our precious recources.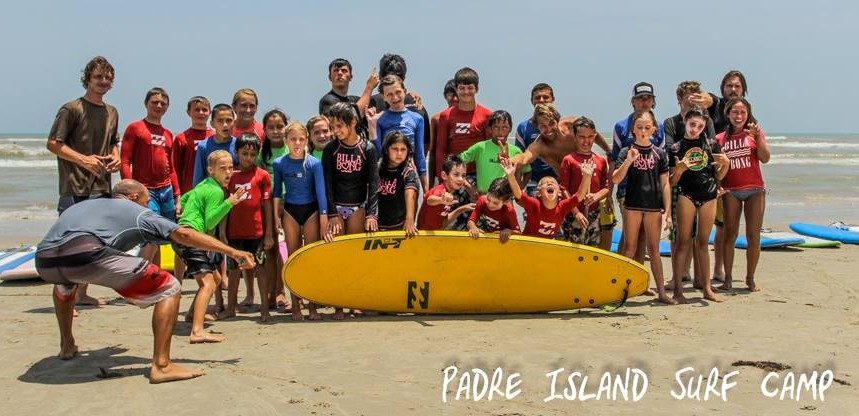 SURF & SUP CAMPS AND LESSONS
This is a ladies only event, all ages welcome, so moms bring your daughters!
We offer the kids an opportunity to get a private, guided, tour through the aquarium!
8-8:30 – Check in (early check in may be available upon request)
8:30 – Stretching, Exercise, sunscreen application, and PISC Surfing "Core Class"
9:15 – Time to see what you've got in the water!
10:15 break for water
10:30 back in the water for more surfing
11:30 Lunch
12:15 free surf with instructors and/or beach games
1:45 Beach clean-up and closing discussions
2:15 Product giveaways for campers (based on trash pick-up, most improved, and discussion questions)
2:30 day camp over (extended stay may be available upon request)
Bring your own lunch, or we can provide it $5
Board shorts and bathing suits (and pack an extra)
Sandals
Towel
Refillable water bottle
Sun Screen and other sun protection items ( rash guards and sunscreen will be provided a well)
Sun Glasses or Hats
Snack
Extra T Shirt
Medication (if necessary)
Transportation offered from 2 locations in Corpus Christi to the Surf Camp daily!
Pick and drop offs will be available at:
Benjamin's Surf Shop at Airline and McCardle
Benjamin's Surf Shop: 7:30, leaving promptly at 7:40.
Wind And Wave Surf Shop in Flour Bluff
Wind and Wave Surf Shop: 7:50, leaving promptly at 8:00.
By far the best surf camp ever! The instructors are so nice, patient, and truly understand the kids. They help teach them how to surf, how to be safe in the water, and most importantly they make sure it is loads of fun for all!!! My kids are begging to go back! I would highly recommend Padre Island Surf Camp, you simply just won't find any better!!!

Laura C.
Just want to say thank you to Padre Island Surf Camp. My girls had a great time and both were standing up surfing!!! Super Awesome camp!!!

Crystal V
My son did this and they were amazing! Patient, kind, and wonderful instructors!!!

Rita R.
My daughter had a fabulous time! Thank you...she will come again.

Christy T.
They had a great time. Thank you to all the wonderful folks who run the camp!

Christopher D.
My daughter had a blast- thanks Ryan and the rest of the crew!

Tracy T.